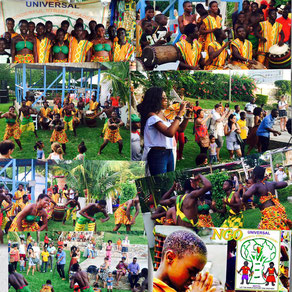 The Universal Senior Cultural Group was formed by the Founder & Director of the Universal Wonderful Street Academy Louis Yeboah Womder Doe ( artist name Louis Wonder) with a group of professional artists to share the african cultural talent to the world.
This group performs fundraising events in festivals, weddings, ceremonies...etc  to raise money to support the Universal Wonderful Street Academy.
They also give drums, dancing and african music worshops.
And share their talent with the children of the Academy in the Activities hours three times a week.
Everybody is welcome to experience the Universal Senior Cultural Group.!!
El Grupo Cultural Universal Senior fue formado por el Director y Fundador de la Academia Louis Yeboah Womder Doe (de nombre artístico Louis Wonder) con un grupo de artistas profesionales para promicionar la cultura africana en el mundo.
El grupo realiza actuaciones orientadas a la recaudación de fondos en festivales, bodas, ceremonias....etc para apoyar económicamente a la academia.
También ofrecen talleres de danza y música africana.
Y comparten su talento con los niños y niñas de la Academia en las horas de actividades.
Os animamos a que conozcáis de primera mano a este grupo.!!